What's Inspected and Services
Pre-sale and purchase inspections
I will conduct a thorough inspection of your home, inside and out. I plan on spending several hours in, on and around the home.
As a NACHI-certified, Washington State- licensed professional home inspector and licensed Structural Pest Inspector, I have the knowledge and expertise to provide you with a thorough and professional, non-intrusive, visual inspection of your home, from foundation up to the roof.
On the exterior of the home, I will check the walls, roof, driveway, deck, yard slope etc. I will then move inside to examine the walls, ceilings, floors, doors, and windows. The heating, air-conditioning,plumbing, and electrical systems will all be examined to ensure that they function as intended. Bathrooms, kitchens, and laundry rooms receive a thorough check along with the attic and basement or crawl space.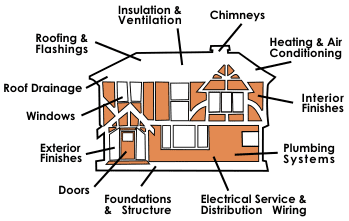 Here are some of the many items I'll be looking at during your home inspection:
Foundation and support structure
Fireplaces
Roof systems
Basement seepage
Safety controls
Water heater
Ventilation
Electrical capacity & components
Structural integrity
Steps and stairs
Heating system
Central air conditioning system
Walks and driveways
Built-in appliances
Plumbing system & fixtures
Attached garages, carports, workshops
Surface drainage
Windows & doors
Insulation
Gutters & downspouts
Decks
Sump pumps

Now Providing Foundation certifications services for Mobile Home Industry
I invite you to come along and watch as I inspect your home, and you are free to ask questions at any time. For more information please browse the rest of this web site.
Construction Draw Inspections

A Construction Draw Inspection provides an evaluation of the accuracy of the contractor's request for payment. This will include a line item by line item check for accuracy when performing a monthly site inspection. NCW Home inspections will evaluate the accuracy of the draw request, notes construction phase completion, deficiencies and identify any stored materials. Any variance in timelines or changes order will be reported.
Maintenance, Diagnostic & Forensic Inspections
Hiring a professional home inspector to diagnose specific problems or evaluate areas that have not been inspected in a while should be a priority on every homeowner's list. Problems left unattended can develop costly repair costs.
Crawlspaces are particularly vulnerable due the infrequency they are inspected. Plumbing leaks, foundation leaks, termites if left unattended can cause major damage to the structure.
If you have had construction performed and need an unbiased professional opinion or you may want to hire a professional for quality control.